Angelique's March 2020 litter is at page: March 2020 kittens (click)
Angelique delivered her second litter at UpperValley on 7 March 2020
Vermont, the state where our cattery is located, has begun to lift some restrictions for commerce and venturing out of the "lockdown." This cattery will remain as before with no visitors and me remaining within the cattery to care for the kittens and cats like it has been since 7 March. This is a Vets Administration specification due to my age of 88 years and some compromise of the immune system from the cancer that's been nibbling at me for over 15 years. Kittens (or cat) that will be or are available to those looking for a pet will be able to be picked up now. Arrangements will be made to pick up a cat/kitten via email and with the transaction maintaining the "social distancing" requirement. This can be worked out on electronic media.
The kittens are $225 to help cover the cost of breeding and upbringing, including the vaccinations but not the cost of neutering or spaying.This can be done at a local clinic usually set up about once a month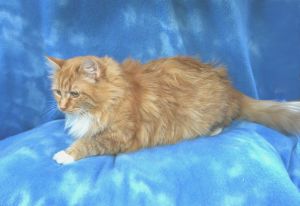 Satindelight Angelique
Satindelight Angelique, a Tennessee Rex gene carrier from British Columbia, Canada.
Our second queen is here for breeding with Pippin. She was the pick of the litter, carries only one Tennessee Rex special gene and really shows her beauty and lovely long hair. Angelique is a red with white and has faint tabby markings. We may need to change her color to red tabby. She was about a year and a half old when she arrived by air. She has four white toe socks to offset the red. A purrfect temperament, she will become a lap cat in due time. Right now she is always under foot.
Radium and now his dad, Pippin, are neutered and looking for a good homes. Radium is a very friendly 5000 gram (11 pound) 1- 1/2 year old. His dad, a full curly hair Tennesse Rex is a 3200 gram four year old and has sired 21 kittens. He is now retired. If you would like to have either boys please contact me at email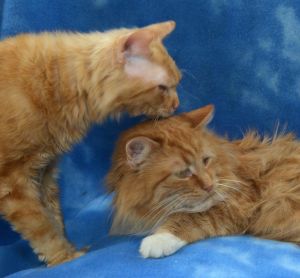 Pippin & Angelique
Our first try for kittens from Angelique
Satindelight Angelique was thought to be carrying kittens based upon her steady weight gain but then something went awry and her steady weight started ups and downs. We believe she may have lost her litter very early in the pregnancy. She was bred again and this time delivered just one healthy kitten. We believe she was terrified by snarling Pit Bull dogs kept by our nearest neighbor. .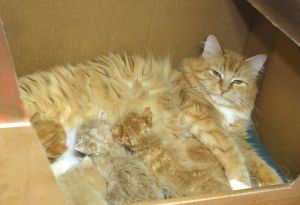 Two week old kittens
We planned to breed her again when enough time had passed for her to rest and when she was ready. This occurred on the first of January 2020.
Angelique delivered her litter of 5 kittens on 7 March. The kittens have their own page at click.(MARCH 2020 Tenesee Rex kittens)
There is a small surveillance camera with a monitor in the living room watching her kitten suite. This is to be sure all is going well. We also have a video camera set up that was used to stream the births on my You Tube channel. Since there is someone else, an adventurous swimmer, with my first and last names also on You Tube it is hard to find my channel.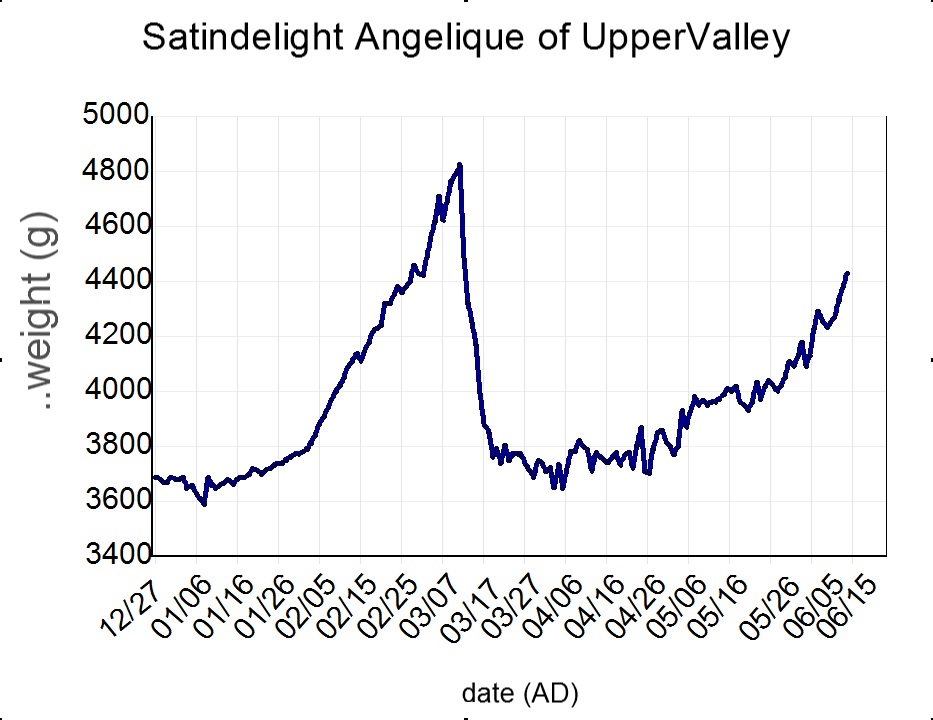 Angelique


Both Angelique, Radium and Pippin as well as all the five new kittens are included on our master cattery spreadsheet. I chose to include the weight of both parents on this single chart. Again, Angelique has returned to her base line weight and the kittens are growing rapidly. In early August all the cats have lost some weight. Not sure why yet It may have to do with a different cat food we have tried. They are eating well but this several day drop started two days after the switch. If it continues we will return to the usual dry food as well as watch for health issues. They are regaining their former weights now..

Radium and the March 2020 litter have their own pages.
The previous litter by Pippin remains on our web site at February 2019 kittens , Mamagoldencurls' kittens., as an archive.
Shown here on the weight chart are mom and dad. The mother was born in western Canada and dad right here in our homestead in Vermont. Dad Pippin has contributed his genes for the last time

Pippin has ended his days as our cattery sire. He has fathered 16 all healthy kittens all carrying the Tennessee Rex special gene. He has been "neutered" and is available as a registered Tennessee Rex cat. Please contact me if you are interested using this email ipxcat@aol.com

Pippin is no longer looking for love and has started to gain weight. Not from just sitting around, either. He is playing with the other cats and is wanting more attention from me, now also taking every opportunity to be in my lap.. I expect him to gain for several more months, likely to top at about 4.5 kilograms (~10 pounds)

A new sire joined our cattery at the end of September. His short name is "Gifter." He will be Angelique's new suitor and we expect to have his first kittens at his new home in late winter We have a new page for Gifter with pictures at (link) Gifter

UpperValley Radium's (Angelique's first kitten by Pippin) page
is at August 2019 kitten,