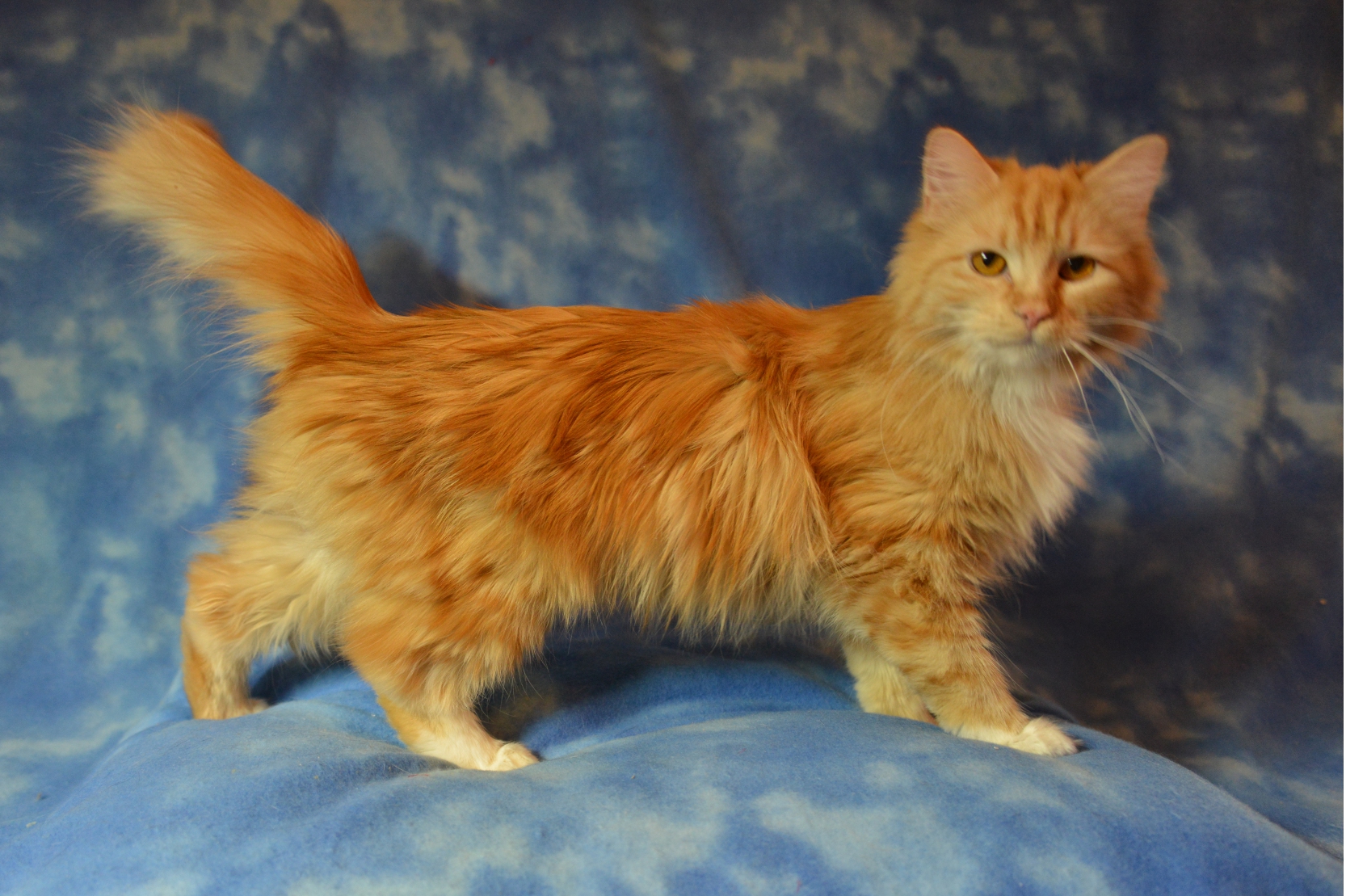 Angelique is expecting a new litter later in July
We did not expect Angelique to start a new litter until much later in 2021. Any sooner would be way too soon after weaning her March litter. All her March kittens except TERAH have moved to permanent homes. She began to show the signs of bearing kittens again in mid June and her weight chart did not confirm the likelihood until later in the month. It's now confirmed and we expect a new litter about the end of July.

We have discontinued posting or updating weight charts of our cats now but will continue with Angelique and her kitten, Terah, Solveig snd her litter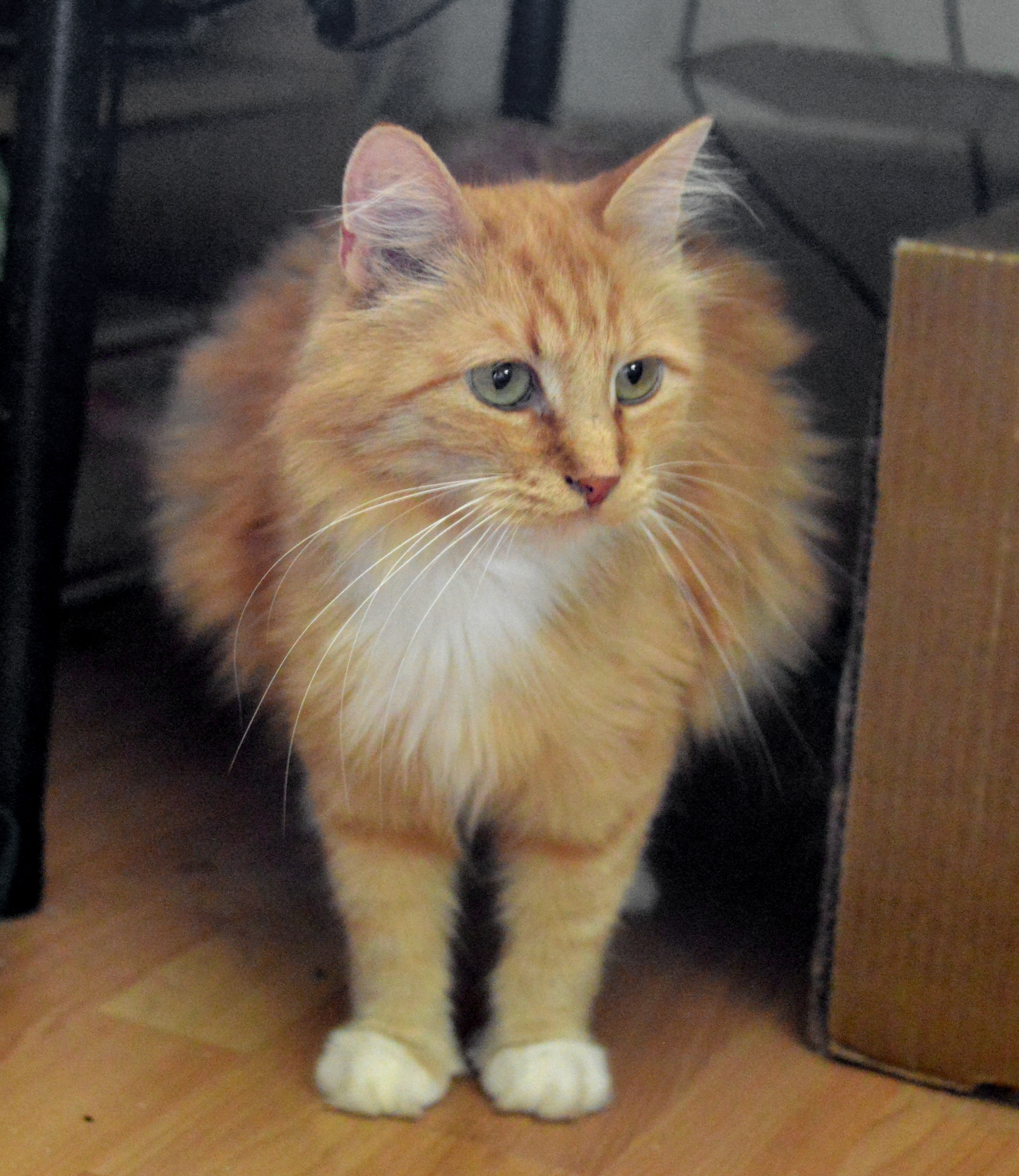 Angelique with kittens next to her maternity box 22 July 2021
Satindelight Angelique most recent litter arrived 11 March 2021!

She was bred in early January 2021 to our current stud, Gifter. We we expect to have her third litter any day now. There is usually a slight dip in her weight about three days before delivery. This has not occurred yet. The weight loss is quickly recovered. Her kittens arrived Thursday evening, 11 March 2021
Angelique's new litter now has a page of it's own. Click here to go see the new kittens
We were able to stream the birth of her third and fourth kittens on YouTube using my old "channel" named Gordon Pugh. It is mixed in with another swimmer with my name ass part of his. To get to this channel go to youtube.com and search for gordon pugh then be sure to scroll until you find the plain "gordon pugh" listings. We have a new You Tube channel for the cattery. Click here to go to our UpperValley Allpurrs channel. click here. My personal channel is so close to another one held by a publicity seeker that it's difficult to find my postings. The URL address of the streaming video for birth of the last two kittens is here. There is a long period of no activity that should be passed over.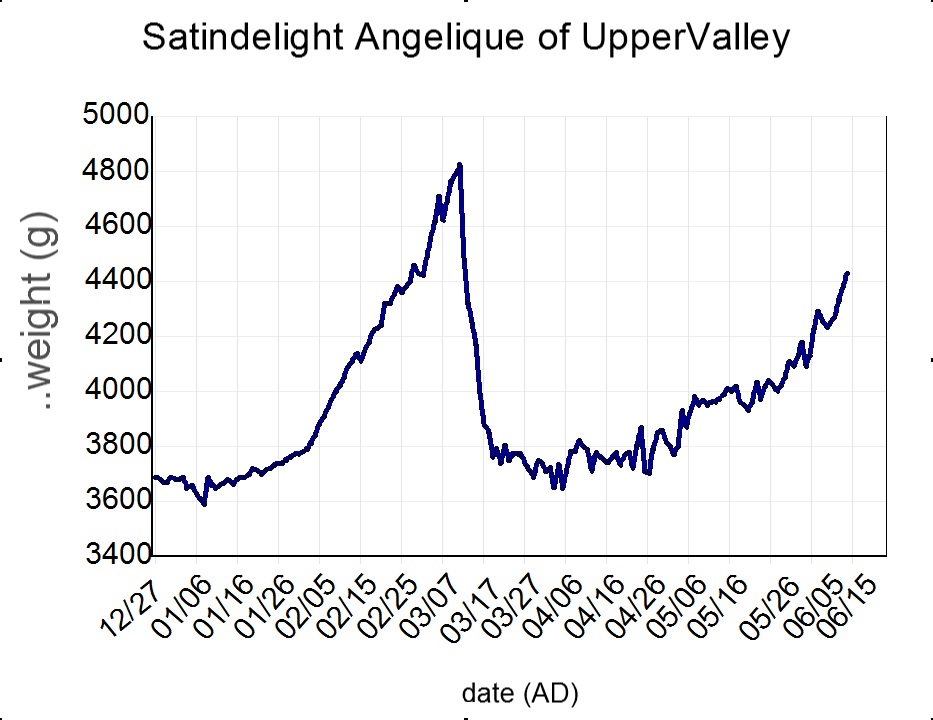 Angelique
Angelique has been with us for about three years and has delivered three litters of very good kittens including three full Tennessee Rex red kittens. They have gone to other breeders and are now part of the development program. We have been keeping close watch on her weight and she was gaining as expected during her pregnancy. The large drop was from the birth and birth related weight loss on 11 March 2021

Angelique had a period of ups and downs until she went just below 3000 grams and has since slowly returned to her usual weight. At first we thought she might be pregnant by our Gifter but the weight gain has leveled off. We do plan one more litter with Gifter from either Angelique or UpperValley Solveig. Her current kittens are now three months old and quite independent We can see that she is very content not having to keep watch over her brood.We only have one kitten not spoken for and moved to a new venue. TERAH, our "teacup" kitten from this litter remains for further evaluation and then to the music director of our church in Walpole, NH
-----------------------------------------------------------------------------
Angelique delivered her second litter at UpperValley on 7 March 2020
Details on page - March 2020 kittens
Vermont, the state where our cattery birthing facility is located, has returned to near "lockdown" but improvements are coming. I have completed the two doses of the COVID vaccine but my wife has not due to long waiting lists for the appointments. We are both near 90 years old -- I will be this year -- but we will remain using the CDC mask and distance for at least the rest of the year.This cattery will remain as before with no visitors while I remain within the cattery as needed to care for the kittens and cats like it has been since 7 March 2020. This is a Vets Administration specification due to my age and some compromise of the immune system. I will be unable to return to Walpole , NH, until the restrictions ease and I receive my + vaccinations. Kittens (or cat) that will be or are available to those looking for a pet will be able to be picked up now. Arrangements will be made to pick up a cat/kitten via email and with the transaction maintaining the "social distancing" requirement. This can be worked out on electronic media and the cat or kitten delivered in Athens or in Walpole, NH, for pick up..
The kittens and adults are $225 to help cover my cost of breeding and upbringing, including the vaccinations but not the cost of neutering or spaying. Adults have already been altered and covering the cost of this would be greatly appreciated. Altering kittens can be done at a local clinic near home even during the pandemic. Most of the clinics operate about once a month.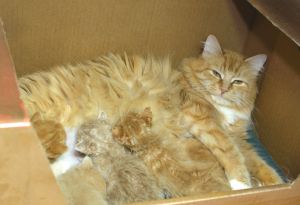 Two week old kittens
There is a small surveillance camera watching her kittens This is to be sure all is going well. We have two monitors at locations within the cattery where they can be observed. The camera has several infrared lights that allow us to see the kittens even in full darkness. Cats also don't see this light and are not disturbed by the "light" it emits.

We also have a video camera used to stream the births on my You Tube channel. Since there is someone else, an adventurous swimmer, with my first and last names also on You Tube it is hard to find my channel.

We also plan to stream the birth of Angelique's third litter on our YouTube channel in March. Then a month or so later the birth of Solveig's first litter.
----------------------------------------------+--------------------------------------------------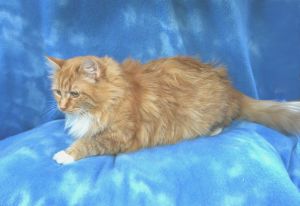 Satindelight Angelique
Satindelight Angelique, our resident Tennessee Rex carrier Queen

Angelique was born in British Columbia, Canada.
Our second queen came to us from a far away place where her genetic diversity is quite different from the sires we have here in Vermont and West Virginia. She is here as a breeder. Her first two litters were by UpperValley Pippin, a full Tennessee Rex. She was the pick of the litter, carries only one Tennessee Rex special gene and really shows her beauty and lovely long hair. Angelique is a red with white and has faint tabby markings. We may need to change her color to red tabby. She was about a year and a half old when she arrived by air. She has four white toe socks to offset the red. A purrfect temperament, she has become a lap cat.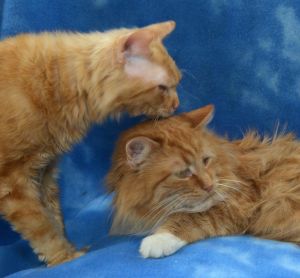 Pippin & Angelique
Our first try for kittens from Angelique
Satindelight Angelique was thought to be carrying kittens based upon her steady weight gain but then something went awry and her steady weight started ups and downs. We believe she may have lost her litter very early in the pregnancy. She was bred again and this time delivered just one healthy kitten. We believe she was terrified by snarling Pit Bull dogs kept by our nearest neighbor. .
Radium and the March 2020 kittens have their own pages.
The previous litter by Pippin remains on our web site at February 2019 kittens , Mamagoldencurls' kittens. page was moved to archive.
Pippin has ended his days as our cattery sire. He has fathered 16 healthy kittens all carrying the Tennessee Rex special gene. He has been "neutered" and is available as a registered Tennessee Rex cat. Please contact me if you are interested using this email ipxcat@aol.com

Pippin is no longer looking for love and has started to gain weight. Not from just sitting around, either. He is playing with the other cats and is wanting more attention from me, now also taking every opportunity to be in my lap.. I expect him to gain for several more months, likely to top at about 4.5 kilograms (~10 pounds)

A new sire joined our cattery at the end of September. His short name is "Gifter." He will be Angelique's new suitor and we expect to have his first kittens here at UpperValley in late winter We have a new page for Gifter with pictures at (link) Gifter

---------------------------------------------------------------
Radium and now his dad, Pippin, are neutered and looking for a good homes. Radium is a very friendly 5200 gram (11 pound) 1- 1/2 year old. His dad, a full curly hair Tennesse Rex is a 4200 gram five year old and has sired 21 kittens. He is now retired. If you would like to have either boys please contact me at email. They are both "fixed."
UpperValley Radium's (Angelique's first kitten by Pippin) page
is at August 2019 kitten,