.

(this page has not been populated recently but we do have other pictures and some stories. Some day when there's five foot snow drifts up against the mud room door . . .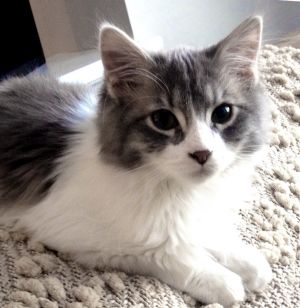 Comet (formerly Blue Angel)
Comet moved to his new home about Christmas time last year. He left purring and hasn't stopped yet. This is a picture of him at his new home.
"Gordon, thank you for the most incredibly sweet and loving kitten! Comet has purred since he came home. He is a real lover. We in fact all think he is ours but truth is we are his! Thank you for our sweet boy. We are in love!"
The D----- family
Redfurr (Formerly Red Boy)
Redfurr moved to California at the end of May, 2010. He settled in and sent us this first impressions of his new home in the Golden State . . .
By Allpurrs Redfurr
Today the sun rises to a new chapter in my life. Yesterday I had a long tiring journey. I miss Gordon and my family! I am hungry, and so tired. I wasn't given any food or water during my trip. My long and tiring travel ended at a home with 4 people---which had two little girls, at 3 AM PT.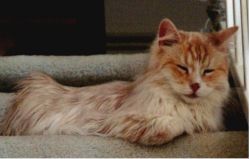 When I finally got the chance to get out of this crate, I immediately went under a bed. The people stayed in the room with me and tried to keep quiet or talked to me. Occasionally I would get surprised by a loud voice of a little child. Finally I gathered up my courage to venture from under the bed and check out the new room. I checked out another cat, which amazingly looked like me, but didn't smell anything like a cat. They set out water, dry food and wet food for me. But I didn't know these people...I wouldn't dare come out and eat! They tried real had to coax me out with a teaser which had feathers, and a laser. I tried hard to resist...but I couldn't! I had to play with that teaser!!!! When the people finally decided to go to bed, I got lonely, and meowed a lot!
Today was a better day. I was not locked up in a cage. But I had to deal with new people, new sounds, new smells, and new sights. I even have a different kind of litter...I think it is made from corn. I don't know if that is a good idea. At the start of the day I had two little kids who kept on checking me out while I tried to hide under the bed. Suddenly, I heard Gordon's voice! My heart leaped for joy...I even wanted to play! But I didn't see him, nor smell him. I guess I'm stuck in this place. Just for the record, on first impression, I liked the man the kids call daddy. He knows how to behave around me. The three girls...I don't know. They're too excitable and I end up hiding under the bed. Finally, in the afternoon, the daddy showed the girls how to behave around me. So I rewarded them by staying in full sight while they talked to me and looked at me from the door. Then, they left.
The big girl came up and opened the blinds...and voila! I could see my new family playing outside. (Is that fair? I'm stuck inside and they're playing in full view! The only consolation is that I'm on the second floor and I'm way higher than any of them). When they came in again, I let the daddy and the smallest girl pet me. By the time it was the medium girl's turn to pet me, she moved in too close, too quick, and so back under the bed I went. Later she came to visit me again, and I let her pet me. Now I have one more person to allow to pet me, the biggest girl who they call mommy.
When all was quiet and everyone seemed to be asleep, I came out from under the bed and on to the bed. Guess what? There were two people there. The middle girl and the mommy. Hmmm...now's my chance. So I went close to the mommy, licked her hand, allowed her to pet me, and stretched out beside her. After a few minutes, I decided to go stretch out beside the medium girl. She was asleep already, but when she made a sudden move, off I went again and hid under the bed again. I didn't stay there for long though. I think these people won't hurt me, so I can come out, relax, and groom myself... I eventually stretched out and lay on the bed beside the middle girl.

-30-
We will have more letters or emails posted here when I have a chance to get to it.