OUR MAIN POWER LINE & COMMUNICATIONS UPGRADE 2013
We changed the power line from overhead to underground from the utility pole to the house and garage in 2008 and chose to use direct bury secondary from the pole to our meter socket at the garage and our "best Little Cat House in New England. This was a cost saving measure and it worked well until the fall of 2012 when one phase went out after CVPS took down a very large tree that was right next to the cable. The ground froze before we were able to locate the failure and we ran the house on the other phase giving us only 118 volts into the house.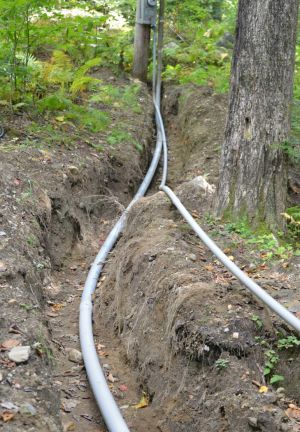 Before coveringw/ sand and dirt
However, things like the electric range and clothes dryer require 238 volts. To provide this power I used a 115 volt isolation transformer that had been clutterig up the basement for over 35 years. It weighs just about 100 pounds and was lugged into the power distribution room in the house and hooked up to give us the other phase. And so it stayed for nearly a year until the hint of fall and frost and freezing ground loomed and it was time to do something. Also we are getting a new telephone service on fiber and that means another feed to the house -- another conduit along the same route.
The smaller conduit is for existing communications services and a Christmas light controller.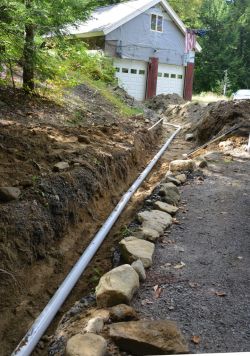 Before covering with sand and dirt.
The old power line was exhumed and checked for problems in addition to the failed section. Repairs were made and the meter end of the line was disconnected and 16 lengths of 3 inch conduit slipped over the cable, one length at a time and connected together. The upgrade was finished in three hours. Power had to be cut by the power company for this work and we finished in time for them to reconnect the service but they didn't return until the next day. We ran the emergency generator when needed until the service was restored.
Our next project will be adding the 2 inch line for communications services.
Page updated 24 April 2015
Page Revised 25 September 2013