The Allpurrs logo and where it came from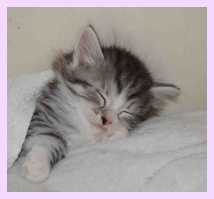 Our logo came about some 75 years ago and from a book, Chessie the Railroad Cat, one of my early favorites and sort of proof that the love of cats goes back to my very early years.

A drawing in the book closely resembles a picture I took of a kitten sleeping in my bed one night as I prepared to retire. The Nikon was
handy and this is the result.
The story is based upon a stow away kitten on a passenger train of the Chesapeake and Ohio Railroad. That line adapted the drawing to be their logo and even painted their locomotives with the image.

Page Revised 22 November 2012
Actions of the Humaine $ociety of the U$