Getting Started. Dig we must . . .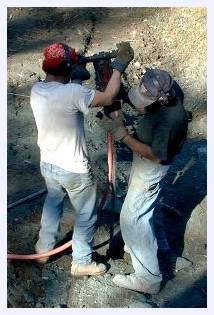 .
Mini earthquakes . . .
.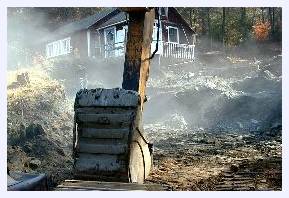 .
Eight Hundred sticks of dynamite! Yes, that's what it took to blast the hole for the basement.
.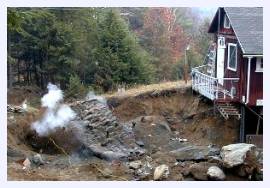 .
About one foot (25 cm) into the soil there was a rock. Rock all over and then some. Seemed like one big rock. It's what they call ledge and goes on and on with some cracks here and there but there is no way to get it out without blasting. Key Blasting worked on it for several days. Just like in the commercial building construction I once watched from high in the building next to a very large hole being made for a 110 floor sky scraper. Fortunately all our spoil found a home right next to the new basement taking shape and didn't have to be carted to a land fill.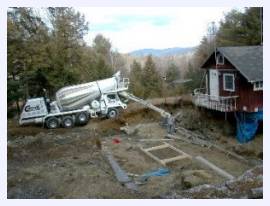 .
The footings are poured about 18 inches (45 cm) below the basement floor level.
.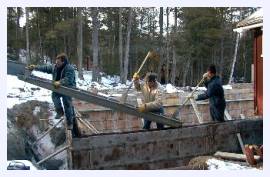 .
By the time the excavation was ready for the foundation the snow was flying. They used a special additive in the concrete to allow it to be used in freezing temperatures. There was about six inches of snow in the cellar hole when the foundation forms were taken down.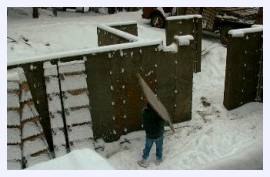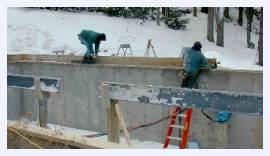 .
.
The next step was to install the center carry beam and main floor joists. Kevin Douglass, our contractor, used steel H beams along the center span between the gable ends of the building to carry the joists . The design was for no more than 1/8 inch (0.3 cm) deflection at maximum load. A center opening was left for construction of a massive fireplace and flues for the furnace. This was a very important decision as you will see. Marine plywood covered the floor joists and that was weatherproofed with tarps during the year while final house plans were tweaked.
.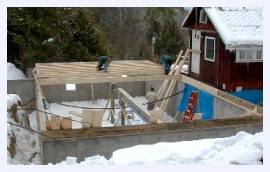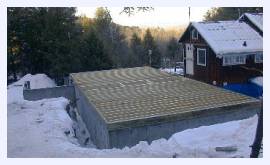 During the following summer and with the help of Bill xxxxxxxxx we finished leveling the soil and installed plumbing and radon gas collection pipes that would be buried under the concrete basement floor. Since this house rests atop ledge it is a good candidate for collection of that deadly, odorless and colorless gas that could seep into the basement through any future cracks in the concrete. The four inch perforated pipes are installed so any place in the basement floor is no more than 35.5 inches (0.9 meters) from a collection pipe. The network of pipes vents to the outside. R-8 "blue board" rigid foam was placed covering the basement floor before the concrete was poured.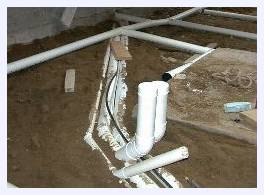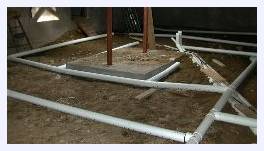 ___________________________________________________
One of the large 4 inch pipes that come up and will stick out of the basement floor was included as a conduit for possible solar energy collection some distance away from the house. The other is a foundation drain access point.
We continue on the next page with exterior changes for bringing utilities into the addition.
________________________________________________________________
Page Revised 16 February 2012
The "HOLE" Job