Household Pets
Household Pet

Thunder Cloud

is a Regional Winner
...and a true lap cat that loves to be right there when I'm updating this web site.
We have adjourned breeding for a year while going through chemotherapy. We optioned to keep Thunder Cloud as a companion. He would make an excellent therapy cat and plan to plan to check if that could be done.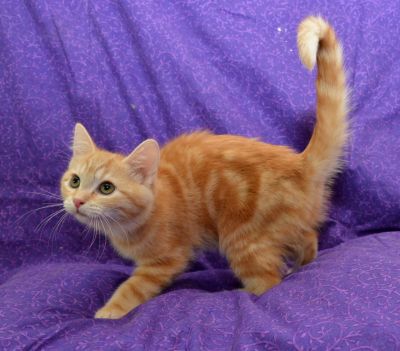 Regional Winner Highball Sprinter
Our Household Pet Kitten Highball Sprinter of Allpurrs was the sixth best HHP kitten in the Northeast Region for the 2013-2014 show year. She was entered in only two shows during this period
She is a kitten from the Tennessee Rex development program and was saved as a future queen because she closely matches the preliminary standards for the breed. As a kitten she did not have to be spayed to be shown as a HHP. Now she has had a litter of kittens and will have one more next year. Then we may spay her and have her back as a HHP adult.
Highball Sprinter had her last litter of kittens in June, 2016. She has been an excellent mom, not only looking after her brood but also keeping an eye on kittens from any other litter.
One of her kittens was in the July 2016 TICA Northeast Region regional show and was a regional winner as seventh best HHP. He's Jasper and carries the distinctive classic tabby markings of his mom. He also carries only one of the Tennessee Rex genes and is straight hair. He has moved to his permanent home in southern Vermont
Our Allpurrs Cattery grand master (champion)
and twice Regional winner Household Pet


RW SGM Ferapont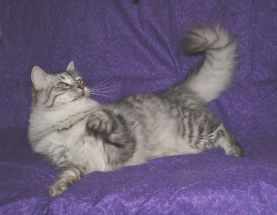 Ferapont is a non pedigreed long hair neutered boy who has been with us for over four years. He's pretty much a moocher and loves to get in my way when I'm at the computer. He's big and has the looks of a Northern Forest cat but doesn't match any breed standard. Sort of like the adult child that comes home to roost while thinking about looking for work. Well, I put him to work by taking him to a cat show when the cat I planned to enter could not go.
He surprised us and made a number of finals. Then more finals and even more and the bug bit me that I had a show cat. So now he has reached the top as a Supreme Grand Master (the master is the title for household pets) and now twice a Regional Winner, Hey, big boy, you ask for it . . .
However, some times things can go awry. In 2014 he developed a gum infection and had to have most of his teeth pulled. He still has problems and can no longer groom himself so his glorious coat and days are over. While he no longer looks great he still has our comfortable home and his cat friends to be with but will never be in a show ring again.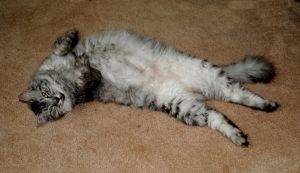 Relaxing after a hard day in a show
.
In this photograph Ferapont has taken on the air of a celebrity, and now flaunts it in front of guests. Next thing you know he will want a red carpet to the litter pan. Our 2013 Northeast Regional has passed and he was awarded 12th best Household Pet rosette and plaque. He has retired from the show circuit.
Page Revised 17 January 2018