Upper Valley Radium had his 1 year birthday party on 9 August 2020. His siblings have all gone to new homes now. He is just about fully grown and is the heavyweight of our red TR cats. While he is a carrier of just one of the recessive TR genes he shows a lot of signs of the curls and even his whiskers are showing signs of being unruly, a required condition for this breed.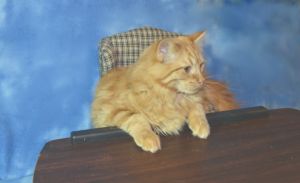 Chairkitten and chief Purring Officer UpperValley Radium at his desk here in New Hampshire. He has sort of outgrown his favorite chair and now weighs more than his dad. He is a carrier of the Tennessee Rex gene but only from his dad so he does not have the curls or satin look. It appears that some of that special appearance is trying make a showing. More information and another picture follows the story of his upbringing below.Radium is his cattery name and he can be registered with whatever name the person who takes him home desires He is available now for $200 to help cover the cost of raisingn him.

Radium's half brother went to the Massachusetts COTB TICA Cat show in 15-16 February as a household pet kitten. Radium may tag along as a kitten for sale. The brother is a few days younger than Radium. He was the best household pet kitten in all 12 rings and received Best in Show for the Household Pet Kitten Class. He was not considered part of the TR breed development project and was sold.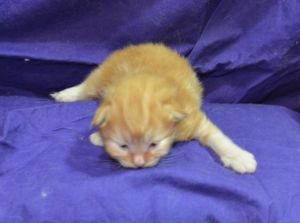 The story of
Angelique's first litter here at UpperValley Cattery
UpperValley Radium, one week old.
Radium is a Tennessee Rex carrier. He is red with white socks that are a bit longer than his mom's. Long straight hair since he carries only one of the recessive Tennessee Rex genes. He has a rather unique tabby pattern that we will show in the next photograph. When he was outside on the way to the luncheon we notices a sparkle in his rather unusual fur. It shines like glitter in the sunlight. The fur is also fuzzy, not like the rest of the single gene carriers. Worth more investigation. There is also some waviness in his whiskers, an expected trait in rexed (curly hair) cats.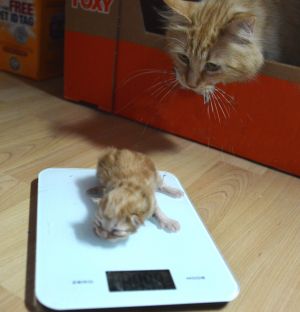 We weigh each kitten and some adults each day. This is a good way to spot any health problems as well as the progress of a pregnancy.
This chart below is no longer updated. He is still weighed about once a month.
He's now about 5500 grams
(13 pounds)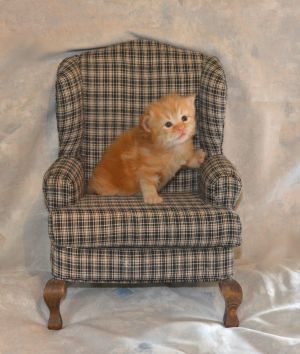 UpperValley Radium
"Chairman" of the Board
and Chief Purring Officer)

This is our first litter out of Satindelight Angelique, a Tennessee Rex gene carrier from British Columbia, Canada. Radium is a male by UpperValley Pippin. Her next kitten is also a male and just as lovely.
In keeping with tradition kitten cattery names in this litter must start with R, the next letter in the alphabet following our previous "Q" litter. We renamed him Radium at the request of Angelique, his mom.
He assumed the "chair" at just two and a half weeks old. He already looks like he will be a steadfast leader of the outfit. He is just about five weeks old in this photograph He spends most of his waking hours running, chasing just about anything that will move and climbing, keeping mom busy keeping him out of trouble.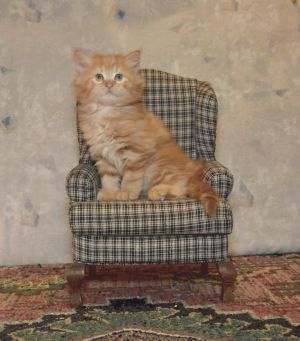 UpperValley Radium
at Six weeks old

Our second portrait is shown here. Radium now fills his post as chairman er... Chairkitten. This picture was taken on 20 September.

He has now figured out the stairs and is exploring the new places like the kitchen and the shower. As you can see his white socks have all but disappeared!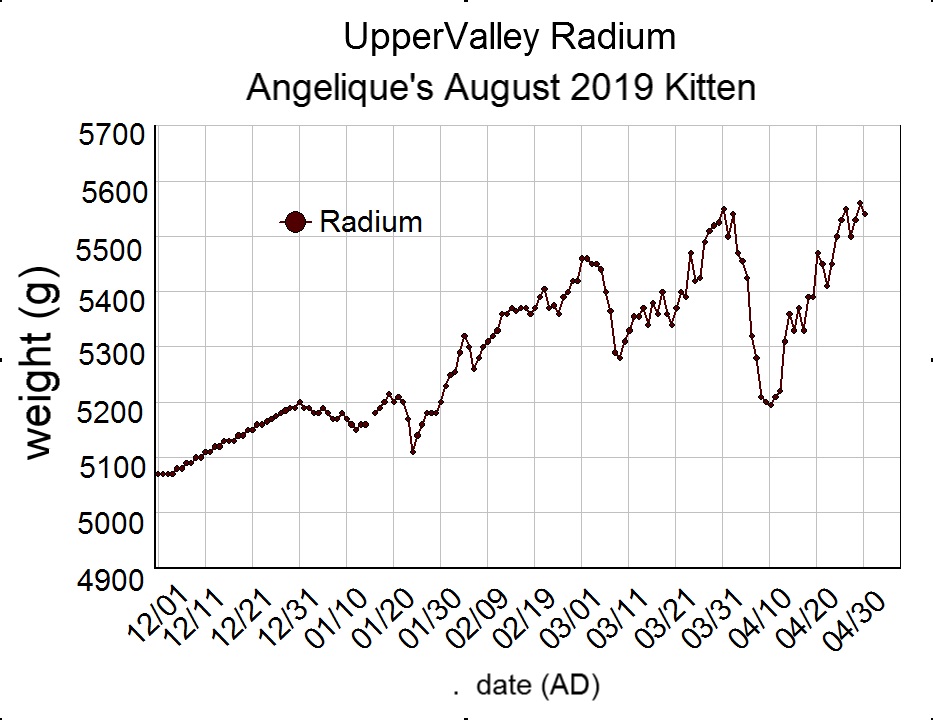 Radium's weight chart (now archive)
We keep the weight of Radium in the cattery spreadsheet and also keep a chart of his weight produced by the spread sheet.
He is now a full grown neutered male weighing about 5000 grams (11 pounds). We update this chart about weekly.

Here is his weight at the end of April, 2021. We will post updates when there are any future significant changes.

Radium had his eight and twelve week old vaccinations, a major step in his protection from the cat diseases. He is now fully protected and has his one year Rabies vaccination which is acceptable at any new venue. He has a rather unusual coat and would have been an interesting sire to father a litter with a full Tennessee Rex queen next year but is offered as a pet because we have several other breeder cats with similar genetic make up.

Radium is moving to his new home in Massachusetts where he will be joining his dad, Pippin, a full Tennessee Rex sire. Pippin was neutered a year or two ago since his genes had been well distributed in the Tennessee Rex program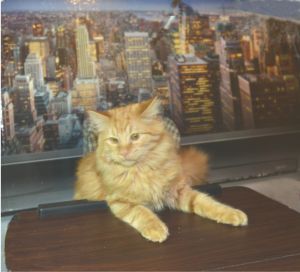 I'll have Puree of Singapore Mouse for lunch




Radium will be moving on Friday 22 April. We wish him safe travel and great new experience. He is a Tennessee rex carrier kitten and does not have the satin or curly hair as a cat that carries the special gene from both parents has. The required TR characteristics only happen when the special gene is received from both parents. He is considered a Tennessee Rex on the registry but should only be shown as a household pet. He will be registered with The International Cat Association in the name of the new owner. That will allow the owner to show the kitten (and as cat after he is 8 months old) in any of their cat shows world wide.
I'm asking $200 to help cover my costs working with this new breed. He may be picked up in Walpole in southern New Hampshire near Interstate I 91. I am keeping the social distancing and face mask part of my effort to keep everyone as safe as possible. Full vaccination is also required.