FEBRUARY 2019 TENNESSEE REX KITTENS
Mamagoldencurls' kittens have all moved to new homes and this page now becomes an archive
Mama's kittens

The kitten pictures gallery below
were taken in mid May, 2019
A word about our temporary kitten names: We assign a sequential first letter to each litter. The last litter names all started with P. This litter is a duzy! They all have to begin with Qu. The third letter is a vowel in sequence. It got tricky with the fifth kitten, Quu... and #6 is made up. The first three kitten names are taken from Native American names.
WE DO NOT HAVE ANY KITTENS FROM THIS LITTER AVAILABLE ANY MORE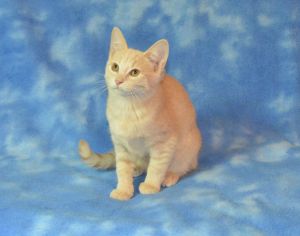 UpperValley Quanah
Cream mackerel tabby Short Hair Female
I'm calling her short hair but she may actually be closer to long hair like her dad.
We planned on keeping Quannah but decided to pet this TR gene carrier kitten out to a loving home. She is no longer here.

No longer Available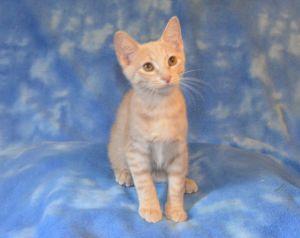 UpperValley Big Red (formerly Quetzalli)

Cream mackerel tabby Short hair Male
He's the big guy of this litter even though he was the "runt" during the first few days. Guess he just had to get things rolling.

This gene carrier kitten is now at his new home in Murfresboro, Tennessee. This move has nothing to do with being a Tennessee Rex carrier kitten, it's just that the breeder lives there. We will really miss his antics!
His mom, Mamagoldencurls, has delivered six brothers and sisters now that she is back home. They are all doing well and the breeder is also looking for other breeders to join in the Tennessee Rex development program.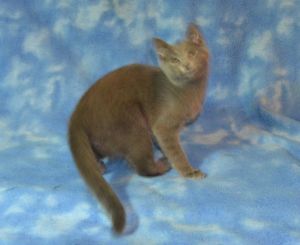 UpperValley Quispe
Blue Short Hair Male
My favorite -- Looks a bit like a Russian Blue but is a far cry from that breed. He has very faint tabby markings. He carries the TR gene but the curly hair is not expressed unless that gene is received from both parents.
He has moved to a home not too far away where he has joined his uncle and a small thing they call a "dog."
No longer available.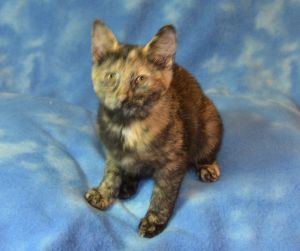 UpperValley Quova
Black Torbie Short Hair Female
This black tortoise shell tabby has moved to a new home nearby.











UpperValley Quuppa
Black Tortie Short Hair Female
A quiet but very active little girl She has also moved to a new home not too far away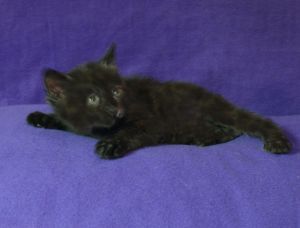 Uppervalley Quyzer
Black Short Hair Male
The first kitten in the litter to move to a new home
He comes in second as being shy. His coat is just like Thunder Cloud's, our five year old solid black. He is a beauty in his own right and will make a great companion.
This is an April 2019 picture




Page Revised 18 September 2020
MARCH 2017 KITTENS