NOVEMBER 2016 KITTENS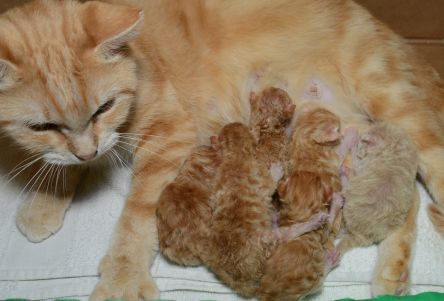 Highbsll's 17 NOV 2016 litter
Highball Sprinter's last litter.


She RETIRED ON 1 February 2017


These kittens are

now available

as our first Tennessee Satin Rex household pets
UpperValley Franklin is the sire of this litter.
There is one of these rare curly hair Tennessee Rex kittens still available. He is named Oenone and is shown below.
He is available for only $500 to help recover the expenses of breeding 61 kittens in our genetic diversity work for the breed.
[/b][/center]
..........................................................................................................
Pictures of our November kittens, the "O" litter
We have decided to not use this litter in the genetic diversity development program. The kittens are available to the public as a registered breed but not yet advanced to Preliminary New Breed status where they can be shown in competition at TICA cat shows.

November kittens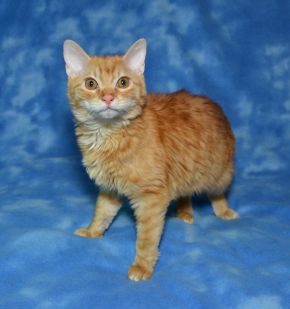 UpperValley Oasis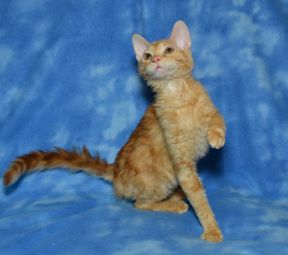 .
.
Oasis is a curly red hair female weighing 2570 grams on 31 May.

OASIS has moved to another TR breeder in Virginia She has a new name of UpperValley Padarascha of the Weyr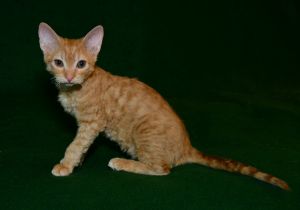 Oenone of UpperValley
RW Oenone of UpperValley
is a male curly red hair kitten who was BEST in class in 12 of 16 rings at the at the Westbrook TICA Cat show in Maine this year
RW Oenone will be shown at the NE Regional TICA cat show in Cromwell, CT the first weekend in August, 2017. He will be available at that show as a housaehold pet neutered male.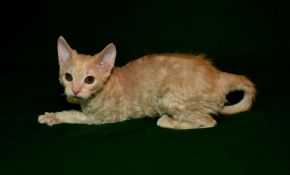 UpperValley Oisin

.
Oisin is a cream curly hair male weighing1720 grams on 22 February.
He has moved to his new home as a breeder.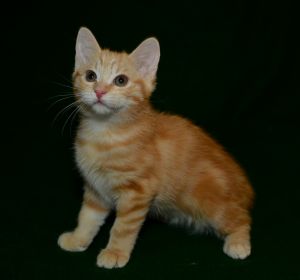 UpperValley Oolong
.
Oolong is a red straight hair male, the only kitten in this letter that is a carrier of the gene but only received the special gene from his sire. He is not curly and has moved to his new home in southern Vermont.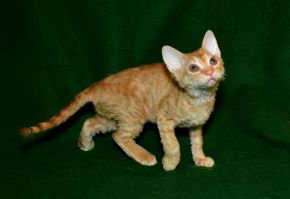 UpperValley Ourania (reserved)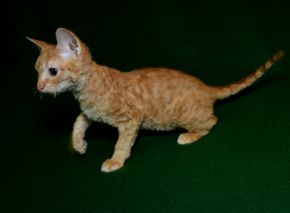 UpperValley Ourania (Reserved)
Ourania is a curly red hair female weighing 1840 grams on 11 May.

Ourania has moved to a new TR breeder
~ ~ ~ ~ ~ ~ ~ ~ ~ ~ ~ ~ ~ ~ ~ ~ ~

They are now eight months old and

RW Oenone

, a curly hair Tennessee Rex kitten, is the on;y kitten still available as a special curly hair household pet for $500. Oasis may become available soon. He is the fourth best HHPK for the show year in the Northeast Region.
Page Revised 19 October 2020
AUGUST 2016 Kittens