2015 OCTOBER KITTENS
Our litter of Tennessee Rex carrier kittens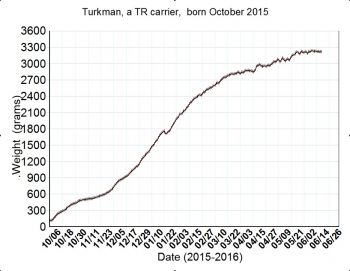 This was an unplanned litter. We can only speculate how our retired Siberian queen managed a tryst with Sparta, our Tennessee Rex carrier sire. It happened. A difficult litter and we lost all but one white with black male kitten.
All the kittens are or were smaller than usual but Vance was the largest. He should turn out to be the size of a typical Siberian female when he if fully grown. He's definitely long hair and carries some of the characteristics of his Siberian mother, however we do not expect him to have the hypoallergenic qualities of the Siberian. He's just a "household pet" in the eyes of the cat registries.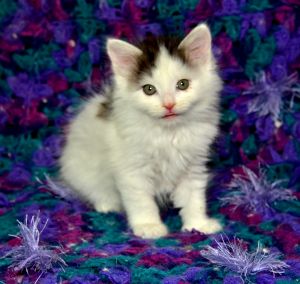 Turkman
Our October, 2015 male Kitten.
Turkman (a/k/a Vance)
On New Years day he went with Franklin to Westbrook, Maine, to attend a TICA cat show, not as a show cat but as a companion to Franklin.
Franklin was at this and also other shows to allow the judges and visitors to see our new curly hair breed. Franklin was also "interviewed" by the staff from the local TV Channel 8. His curly whiskers were on the news Saturday night. WMTW channel 8 is rather special for me since I ran their TV station transmitter on top of Mt Washington, NH, back in the 1950's after serving in the Army Signal Corps First Mobile TV unit, 9440TSU, during the Korean "police action."

Page Revised 16 June 2016
2015 JULY KITTENS