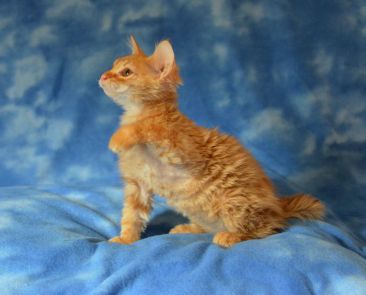 UpperValley Franklin as a kitten
UpperValley Franklin.
Our first curly hair kitten is now fully grown and a grandfather of kittens at his new home in Poland and is the first of the breed in Europe
He is our first TR sire and has fathered six litters before leaving for Poland late in 2016.
This and other older pages are now legacy and will no longer be updated. So the information on this page is now history of the summer, fall and a bit of the winter 2015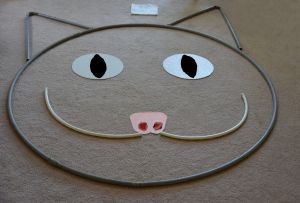 Our February 2015 Tennessee Rex (carrier) Litter is shown below.
The face on our carpet is being equipped with tiny LED lamps that will light up when mounted on the garage wall above the doors It will be in a hoop like the one shown except that hoop also has a ring of 150 LED lights that are computer controlled. It was supposed to be finished for the 2015 holidays but we ran into problems with another part of the display and had to put this off. Maybe by summer, 2020???
Elizabeth, Female,
Red classic tabby with white,
short hair carrier TR
Elizabeth came to visit her place of birth on 2 February. She has grown to a very lovely cat but did not recognize all the old or new members of her family except possibly for Enigma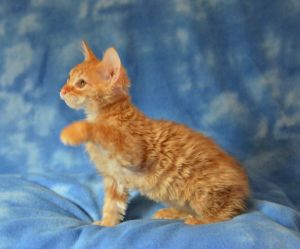 Franklin, Male,
Red curly hair, Tabby
medium length hair Tennessee Rex
He is our curly hair Tennessee Rex carrying the TR gene from both outcross parents. To start he had only one whisker. It was also curly but has since fallen out. The Tennessee Rex kittens sometimes molt and grow a new coat that has a different curliness. He now has short, curly whiskers.
Franklin is now an adult and weighs about 3850 grams (about 8.5 pounds). He will continue to gain weight gradually.
Franklin is moving to our new Tennessee Rex Males page.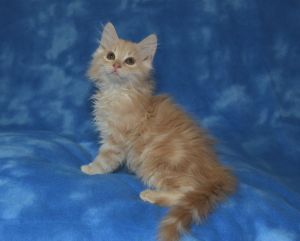 Lawrence Male
Cream, Tabby
long hair carrier TR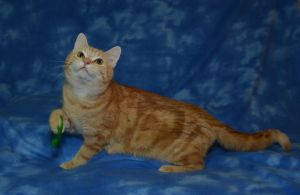 UpperValley Highball Sprinter II
Our queen that brought forth these three kittens.
She is one of the kittens from a carrier x carrier mating. She was born in September 2013.
Our June litter of six kittens, including two curly hair boys will be found on the June kittens page following this page.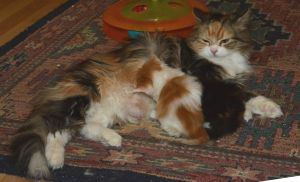 Our unplanned April Litter
Individual pictures of our two carrier kittens in this litter are posted below.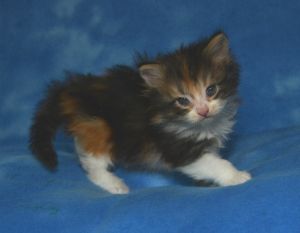 Kitten 1
We named her (the feminine of Troubadour)
Trobairitz the torbie SOLD
She has learned to play with the circular captive ball toy. They spend a lot of time and energy chasing each other as well as unobservable who-knows-whats all over the room and now the hall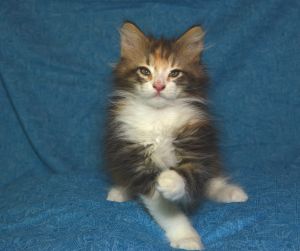 Here is Trobairitz on June 15. She has now moved to another state here in the Northeast US.
Our breeding program includes outcrossing of the curly hair cats with selected non pedigreed cats in order to increase genetic diversity. This is one of the outcrosses that did not receive the special gene from both parents. She is raised just like a fully registered domestic breed and receives all shots and care. This is costly and we ask only $80 to cover our costs.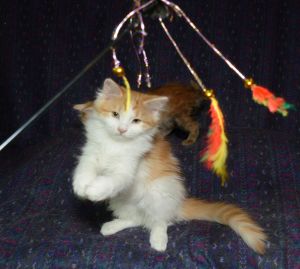 Kitten 2
Our little red and white girl is
Rufus the red
She's the explorer. Anything that's loose she has pulled out or tipped over. As you can see, she's waiting for the next challenge.
Rufus has now moved to her new home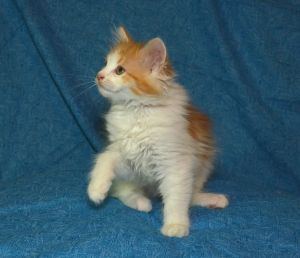 This is Rufus on June 15.

Our breeding program includes crossing of the curly hair cats with selected non pedigreed cats in order to increase genetic diversity. This is one of the carriers that did not receive the special gene from both parents. She is raised just like a fully registered domestic breed and receives all shots and care.
Our physical cattery setup.
It is based upon a similar operation at the Allpurrs Siberian cattery.
A brief explanation of why we are following the USDA rules to avoid having to meet the USDA "Dog Kennel " regulations required with a federal USDA government license. Those rules, based upon large "puppy mill" setups, require facilities that would never permit socializing a cat or kitten. The pregnant mother would have to be isolated in a separate building apart from other animals and kept in a bleak and hostile environment, even if she would normally have close relations with another cat during birthing, such as her mother or a grown kitten from her previous litter. The kittens would have to be taken away from their mother at 8 weeks and kept in a sterile pen with nothing that could not be run through a hospital laundry system. The kennel has to be live steam cleaned or disinfected (read scrubbed with bleach or equal) each day and other requirements would completely alienate the kitten from interacting with people.

Instead, our kittens live with us. They are usually born in an 18 x 30 inch (45 x 75 cm) special box with an entrance to accommodate a very pregnant mom to be. Video surveillance using IR cameras can keep track of the family without disturbing the darkness during nighttime periods when the room is not occupied by others.
When birthing is finished we add new bedding over the soiled bedding for a day so the familiar smells can migrate into the new material Then the soiled bedding is removed.
When the kittens get to the point of trying to climb out of their birthing box the entrance opening is raised usually for another week or so then the kittens are allowed to find their way through a small door into an adjoining closed box (to keep mom out) where they will find solid and moist kitten food and water** but have to cross a very small litter pan to get there. This is the beginning of the litter training. They learn that the litter can be played in and they can scratch in it. This stimulates them to "go" and cuts the time it would otherwise take to get them through that stage.
** Important Note: Cats and kittens should never be offered cow's milk. It is very difficult for them to digest. If a kitten needs to be fed "formula" there are several commercial products available at many stores that carry pet supplies. We use a product called KMR. Goat's milk is also a satisfactory substitute.
Once litter training is done we open another door in that box to let them explore the bedroom, our nursery, and provide regular kitten food in a dish next to the queen's dish. They remain in a regularly occupied bedroom until they are vaccinated. At that time they are usually fully litter trained and we introduce them to the rest of the house. They are also introduced to travel by car for short trips to meet more people, usually at a social hour after a meeting.
Notes about the "societies" that claim to be
looking out for domestic animals.
We are not raising kennel bred animals like the animal rights terrorists are trying to force upon us. We are raising kittens as household pets and show cats & kittens, well socialized and ready to look for attention and purr while curled up in your lap. Our environment does not match the variable diurnal dark and light of the changing seasons, a requirement for all USDA licensed kennels. These kittens are not moving into such an environment when they go to their new and permanent home. If we were forced to raise our kittens based upon that and other USDA requirements the kittens would be difficult to care for and likely poorly socialized or lacking any socialization at all.
This link as well as the last page in the Tennessee Rex chapter should help
to explain what is gong on with the breeders who are working with pet animals and how the Humane Society of the US is working diligently to terminate all breeding, especially animals that are intended to be individuality owned pets or show animals.