Pictures of all the kittens born at UpperValley Breeders have been added below.
At the UpperValley Breeder Cattery we welcomed a litter of six TR carrier kittens from our full TR sire who has moved to a breeder in Kentucky. Our queen was bred before he departed for Kentucky following the TICA Northeast Regional show in August. The litter of six was born at the end of August, 2013.
They are now about eight months old and have received their second set of immunizations and rabies vaccination. The red female is being groomed to be a TR queen with kittens in the first half of 2014. Our Big Spot red and white boy may be shipped to Kentucky to another TR breeder.
Some of the kittens from this litter do not meet the standards we are looking for in this new breed and are available as household pets.
Photographs of the 2013 carrier
Tennessee Rex kittens at UpperValley are posted below.
Our litter of kittens carrying the Tennessee Rex gene from their sire.
Born 1 September 2013
Kitten 1 We called him Small Spots
PLACED
Kitten number one has moved to his new home in New England.
We do not have a December picture of him.
Kitten 2 This is our Black Tabby female
She will be in the breeding program next year
and will soon be a "Queen in Training.
This Black Silver Tabby has been transferred to another breeder in New England.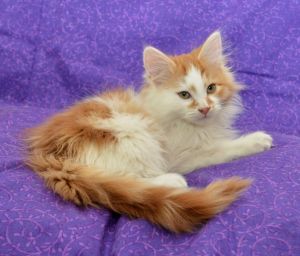 Kitten 3
He has been nicknamed
Red Rump
Red rump has moved to his new home in Connecticut.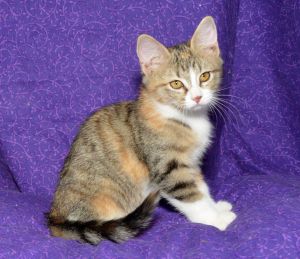 Kitten 4, Our second girl is Black Torbie .
She is in the breeding program and will be a "queen in Training"
starting in early 2014. She has moved to Nashua, NH..
"I have an important mission coming next year -- to deliver some curly hair
Tennessee Rex kittens. Just as my sisters will do."
"I did move to a new home but they said their little girl was allergic to me so I have returned to my birthplace. I did deliver kittens and then was sent to a new home and think this place is just great. Hope I can stay here and maybe have some more kittens."
Kitten 5 is most likely an identical twin of Highball Sprinter. Hard to tell which one is which That's why we named then both Highball Sprinter. She ended up being spayed and not part of the Tennessee Rex breeding program. After her name was changed we dropped the "II" from the other Highball Sprinter who is in the breeding program.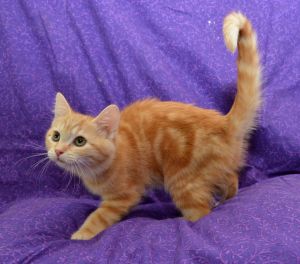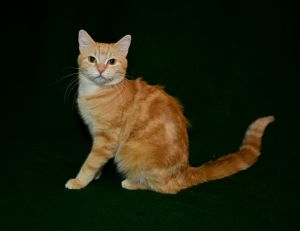 Highball Sprinter has retired and moved to a new home in February, 2017
Kitten 6, Now named Highball Sprinter
We originally called this girl "Garfield" because she would likely be the one munching donuts and pizza.
These two kittens closely match the preliminary breed standard that will be fine tuned through the next several generations. This twin is now one of our TR Queens and delivered thee kittens in February 2015 and another litter in January, 2016. We did get one fully rexed kitten in this first litter but none in the second. We should have kept both the twins.
Our second litter of kittens
born 13 September 2013
Second Litter of possible Tennessee Rex carriers
We have a second litter of TR carrier kittens that were born on 13 September. Pictures of these kittens are below. The two with white are very long hair and will likely be good kittens to show as pets.
The solid black kitten is just that -- solid black and moderate to short hair. This miniature "black panther" will be very easy to groom and care for.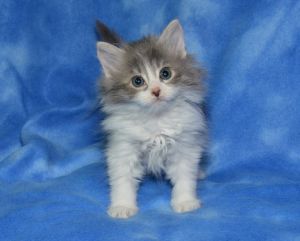 Blue Angel
A blue and white male.
He is Not Available
This kitten has found a new home up near the Canadian border.
(You will note that I didn't say which side of the border.)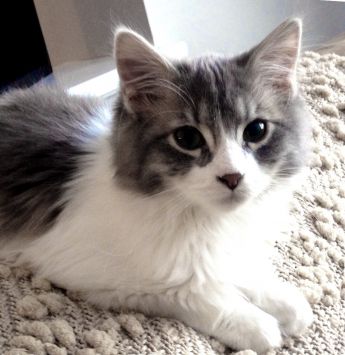 Here is Comet (formerly Blue angel)at his new home.
Silver Mine
a black silver and white
now fully grown neutered male
He is still available for just $85
He has been "fixed" and is waiting to move to a permanent new home. I ask $85 for him. This includes all the vaccinations, rabies shots and neutering. Right now he is not looking very good because we are still removing some mats that we did not take care of when we should have.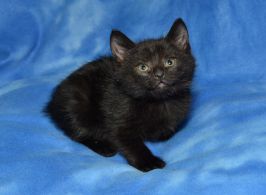 Thunder Cloud
(A new name)
A very black neutered male and a real cuddle cat!
We named this little guy Thunder Cloud when he grew up and entered him in a cat show, not realizing I had already named another kitten in this litter Thunder Cloud. This now grown up "little panther" may look ferocious but he is a sweetheart and loves to curl up on the covers next to me and purr in my ear. He has been neutered and has received all the shots and rabies vaccinations which are covered in the price of $85. We spend a ton of time preparing our kittens to be well socialized family members.
We have had to make some changes in our cattery operation due to new and very restrictive federal regulations that are now in effect. Socialized kittens just can not be raised under the new USDA dog kennel requirements that now apply to all warm blooded animals that could be classified as pets. In order to continue producing socialized kittens that do not have to be taken away from their mother at 8 weeks of age and be kept in a sterile, bleak and isolated kennel where everything that the kitten comes in contact with must be capable of being hosed down. The kittens can have no interaction with any other animal except the mother cat and then only for the first eight weeks. These requirements fit nicely for a "puppy mill" but not for raising socialized kittens. The HSUS is directly responsible for bringing about these new regulations as part of their effort to eliminate all pet ownership.
To avoid having to live by these restrictions the facility is limited to four breedable females of any type in the facility, even a mouse. The Tennessee Rex breeding program has been transferred to an independent Breeder Only cattery specifically for preserving the rare Tennessee Rex breed. There are only a few Tennessee Rex cats remaining from the original attempt to develop the breed. UpperValley has added four litters of kittens that carry the T Rex gene using an outcross program to obtain genetic diversity. The litter born in February, 2015, is the first to include a curly hair T Rex kitten. He is featured on our 2015 Kittens page. The new facility is actually an older cattery at another location It is undergoing some finishing touches to make a comfortable home setting for the Tennessee Rex families. The new cattery will be limited to four breeding Tennessee Rex or Tennessee Rex carrier females that are able to be bred. The full rex (curly hair) kittens will for now only be available to other Tennessee Rex breeders; however, some of the the kittens that do not carry both "rex" genes, one from each parent, will be available as pets. They will not have the curly hair that distinguishes a rex breed.
The H$U$ is an organization that has been working for many years to eliminate all pet ownership. Their CEO has stated that if there were no more litters born he would be very pleased. About 98% of the donations they solicit go to salaries and lobbying. We all wonder how they manage to keep their 501c(3) tax exempt status when half their donations are used to push their agenda through law making bodies. The agenda that these "animal rights" domestic terrorist groups pushed through the Department of Agriculture has now become law and will likely wipe out many of the high quality small breeders that strive to present the very best socialized, pedigreed pets to the public.
For this reason the UpperValley cattery is now a breeder only cattery and will not be selling kittens to the general public. This is also in keeping with our present goal to develop the Tennessee Rex breed into a recognized curly hair cat with glitter in the hair shaft. UpperValley is an independent breeder only operation not associated with any other pet shop type breeders. When our present outcross kittens reach breeding age they will be mated with outcross cats from other breeders. Kittens from mating of these pairs will include fully "rexed" (have the curly hair). But only a portion of the kittens will statistically carry the required gene from both parents. Other kittens that may carry just one gene will be available at a minimal cost to cover the vet care and vaccinations. These kttens will be available to loving homes and will have the same restrictions as if they were a pedigreed recognized breed. The breed should be recognized as a preliminary new breed in TICA within two years. Except for a single outcross kitten now five months old there will be no more breedable kittens available until late 2014. Please keep in touch. All the advances and setbacks in this program will be posted on this leased section or "chapter" of the multi-purpose Allpurrs web site.
The TR outcross kitten that we now have and believe should be in the program is available to another TR breeder now.