Our Progress with the TR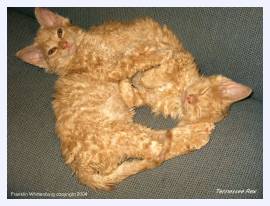 The Tennessee Rex breed was founded by Franklin Wittenburg about ten years ago. He allowed a pregnant feral cat access to his porch to have her kittens. Two of the kittens, most likely maternal twins, were different. They had curly fur. He kept these kittens and with the help of Dr Solveig Pflueger, the head of the TICA Genetics committee and a well known geneticist, determined that the curly fur was indeed a genetic mutation. As with most of these spontaneous happenings it turned out to be recessive, meaning that the altered gene must come from both parents. Since the mother of these kittens did not have this characteristic it had to be brand new.
On September first 2013 the UpperValley Cattery "foundation" Queen gave us our first litter of TR kittens.
From 2013 to 2017 UpperValley added 61 kittens to the development of the breed. We then rested for almost two years and worked with other breeders who received our kittens. Now we are working with adults returned two generations later and adding genetic diversity from non pedigreed domestic cats
The first litter here at UpperValley since our time off for chemotherapy and recovery was in early February 2019 The kittens are all carriers of the special Tennessee Rex gene from their sire, UpperValley Pippin. The dam, Mamagoldencurls, a robust and caring mother is a domestic short hair carrying both the red and black colors. Her kittens include cream, blue and black tortie and torbie. Their kittens are shown at our February 2019 Kittens page
Page Revised 11 March 2019
Available CATS and KITTENS