Queen Mamagoldencurls was our guest for breeding of two litters in 2017-18. She is now back in her home in Tennessee.
Mamagoldencurls


from Tennessee
Mamagoldencurls is our first queen and part of the continuing Tennessee Rex development program since we adjourned breeding in 2017 for medical reasons. She delivered our first Tennessee Rex litter on 9 February 2019 in the wee hours of the morning. The story of this litter is on their own page at
February 2019 TR kittens page
.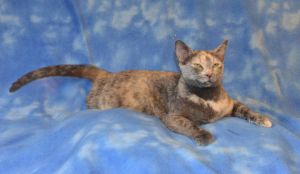 Mama and one of her kittens went home on 15 May with a stopover on Long Island
Mama's time here in Vermont is coming to an end. She and one of her cream kittens, Que, will be heading to mom's home in Tennessee this week (middle of May) She has been a good kitty after having spent two months adjusting after a terrifying surface transport ride all over the central and eastern states, She has been a super mom and raised her breed carefully. Not a single "mistake" outside the litter pan. A first for us after some 18 litters in the past 12 years. Her kitten, a carrier of the Tennessee Rex gene will be entered in the breeding program. Mom will retire to a life of leisure and chasing mice. .
Mamagoldencurls was bred by UpperValley Pippin about the first of December. She really had a "baby bump" for the last several weeks. We have included a photograph of her at about mid term. Here is her weight chart showing a steady increase as the kittens continued to grow and then her weight loss at delivery of six kittens. Her "maternity suite" is our bedroom where we can keep an eye on mama and the babies and also have them bond not only with their mom but also with humans as they become aware of their surroundings.
Because Managoldencurls headed back to her home in Tennessee we allowed her to breed with Pippin again before leaving. This was a much too close pregnancy but she is a robust and dedicated mother. Based upon her recent weight increase she definitely showed signs of having a litter of kittens "in the oven."
We handle the kittens at birth and every day. This includes weighing them daily to be sure they are growing and remain healthy. It is important to develop a bond early so they will be at ease around humans and become well socialized. Our cats are all absolutely indoor cats.
Mama is an ordinary domestic cat that traveled the neighborhood, something like a "barn cat." That is why we bred her to a full Tennessee Rex. All of her kittens are carrying the Tennessee Rex gene but will not show the TR characteristics because the gene is recessive and has to inherited from both parents in order for the curly, wavy and satin hair to be expressed. What she does have is new and diverse genetic makeup, something that will strengthen the breed as we continue to work with new cats in the development of this new and spectacular curly, satin hair breed.
____________________________________________________________________________..