Athens, VT, Christmas Lights 2011
Christmas 2012
Our light display is up and running at our cattery in Athens, VT. This year we did not make the tree of light strings as we have in the past. It got too cumbersome and heavy for the support structure. Last year the support broke as we took it down. This year we have arches made out of semi flexible PVC electrical conduit with light strings wrapped around the conduit and the connecting wires run through it. Eight arches were planned but we only were able to finish six of them in time to be up in time for Christmas. I'm looking at maybe 10 or 12 for next year. Each arch pair uses up the capacity of a single comtroller and has 600 bulbs.
Again, the display is turned on by motion detectors along our very back woods town road. Some vehicles remain so close to the ambient temperature that they don't trip the detectors. In the past when people walked by they would turn the display on but by the time they got to the main display it would time out. We added a sensor right by the driveway this year so it would come back on when someone walked by.
Christmas Lights in Previous Years
We have had an animated display of Christmas lights at our cattery for many years. It started with a sixteen channel controller that could be mounted near the display connected to a laptop computer in the house using ordinary "CAT 5" cable. Each year it grew by adding more controllers. In 2011 we were up to six Light-O-Rama controllers and sequencer software to control 96 individual light strings. The light strings made mostly of 50 to 300 bulb Christmas tree lights blink and shimmer or change brightness and are synchronized to a musical piece by the Trans Siberian Orchestra called Wizards in Winter This year the display ran three minutes and six seconds then repeated. To conserve electricity we installed motion detectors along the road so the nearly 10,000 light display only lights up when traffic is detected by the motion sensors. The display is still in place in mid March because the wiring remains frozen in place even though the snow is mostly gone now.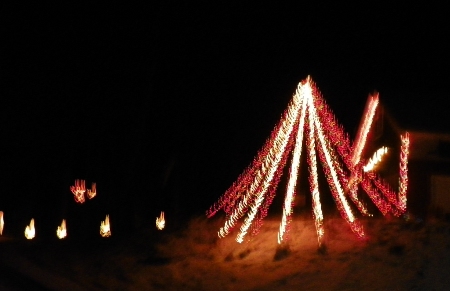 A video of the display was made and sent to YouTube but their automatic file checking system detected the audio in the background and blocked the video clip. We will try again and have recorded several more takes to make a better visual presentation. The above video will be replaced when the editing is finished.
You probably noticed a slight synchronization error between the lights and the music. The sound track was added using Windows movie maker. It has very limited editing capabilities. We are using Sony Vegas 11 for the final version and will place it here and on youtube without the sound track.
Bulb count for 2012:
Arches and accessories 2200
Deer 800
Canes 220
Snowflakes 400
Gable strimgs 800
Small "trees" 200
Big Star (two ropes) 100
Animated LED string 80
Inside display 400
Total (so far) 5200 Compared to over 8000 last year
Page Revised 25 November 2021
Photography