Please note -- If you are using AOL 9.7 this page may not space properly. We are working on it but for now please use a different browser such as Firefox or IE8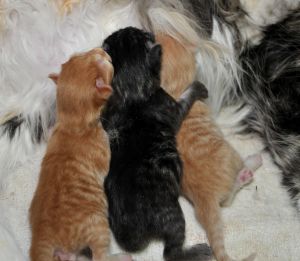 Thursday 16 May
In the above picture Arisha"s kittens are two days old and gaining weight about as expected. Grandma moved in and lined them all up for the first family portrait. Little did we know that Plamya was ready to add to the kitten count.

_______________________________________________________________
.

Plamya's litter born 16 May, 2013
Individual pictures are shown on our

May 2013 Kittens

page
_________________________________________________________________

Saturday 18 May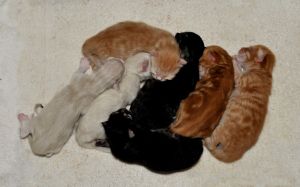 FAMILY PORTRAIT
Both Plamya's and Arisha's litters shared the same "nest" box
and were nursed and cared for equally by both moms.
.

_________________________________________
Previous litters
.

The kittens below are from Plamya's previous litter.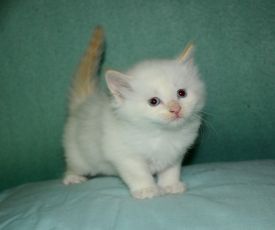 IVAN Иван
Ivan is now nearly as big as his mom and the red points are getting darker than these pictures show. However, his nearly white coat is still very close to remaining white. We do not believe it will darken.
.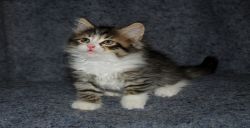 "Little Peanut"
INGA Инга
Inga is going to be a small adult. The judges called her "little Peanut" at the last show she was in and agree that she will remain small for a Siberian. Still, she will be very cute cat. She was a bit shy when we prepared her to move to New hampshire just a few hours before we ring in 2013. Inga was shipped to a new family after being checked here at the cattery.
About our present and future litters of Siberians
The kittens are born with fur that will change as they mature. The pure white kittens that Plamya has delivered are different than just white kittens They are pointed, just as their sire is. The pointed color only happens when the "color point"
gene
is inherited from both parents. Otherwise they will have other genes controlling their color. Since the sire is a color point all these kittens carry at least one of the color point genes. The color point Siberian kittens are known as
Neva Masquerades
, a name prevalent in Russia. Our next litter may have color point kittens or may not. It all depends upon the mother in this case. If her color point gene is inherited by the kitten it will be a color point and could be just about any color.
The darkening of the fur in a color point has to do with the temperature of their skin. It was the same temperature as their mother's womb until they were born but once born it is no longer uniform. The cooler the skin the darker the fur will become over time.
There are only two feline colors, red and black, All the other color shades are modifications of these two colors. Our red kittens can vary from a deep red to a cream.
Our new litters, born in May, 2013, are shown on this page. I do not take reservations for the kittens until they are a month old. Their looks can change quite a lot during that first month. I will accept selection order reservations, sometines referred to as "pecking order," at any time.
Kitten and older cat contract
The kittens and older cats are sold under a contract. This is signed at the time of reservation or sale. It is important to know that the contract requires that the kitten be an indoor only cat and NOT be declawed. Pet kittens must be spayed or neutered before the registration form is released.

There is also a minimum weight that they must reach by the time of the check up at the vet's office before becoming available to move to a permanent home.

The kittens are fully immunized for the next year except for rabies unless they are over four months old. We do not introduce them to dogs but people that have received our kittens have not had any problems with proper introduction of the kittens into their new home.

Check back regularly for updates!
_________________________________________________________
.
Older Kittens that have moved to new homes.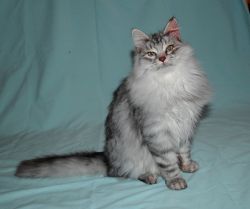 Genya [Геня], was formerly known as Mr. Purrs
Our purr champion is the only kitten in residence from Plamya's previous litters. When he first learned to purr it sounded like someone trying to kick start a loud, stubborn motorcycle. He had a very minor operation on his left ear as a kitten that healed nicely and didn't leave any deformity. There may be a slight difference in the color of the skin inside the ear but it should slowly disappear.
He is a lap cat and purrs when he's here in my lap, even when I'm grooming him. He has very nice fur that may continue to develop a bit more over the next year or so. His body is well proportioned but will be somewhat smaller than a typical whole male when he has reached full maturity.
.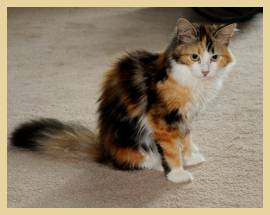 This is Klavdiya [Клавдия], previously called Calico Girl.
This rather small spayed Siberian has markings very similar to her mom, Plamya.
She has gone to her permanent home and will be given time to slowly adjust. She will remain a small but pedigreed and hypoallergenic Siberian adult.
Calico Girl has moved to Massachusetts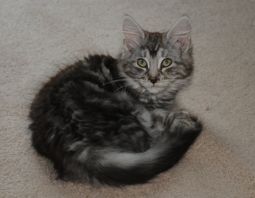 .
This is EVPRAKSIYA [ Евпраксия ]
Evpraksiya left our cattery on June 29, 2012, and has moved with a couple from central Massachusetts to Brooklyn, NY.
The couple that purchased this older kitten decided the name I gave her was a bit too much. She has been renamed Manu
________________________________________________