At this point I do not plan to resume breeding of Siberians and Maine Coon cats.
Allpurrs is a breeder of Siberian and Maine Coon
Northern Forest Cats.
Siberian and Maine Coon breeding has been on hold until we have completed the present work assisting the development of the Tennessee Rex Breed which is now accepted as Preliminary New Breed in the cat associations.
We will not have SB or MC kittens available any time in the near future.
This web/blog site hosts the UpperValley Breeders web site as one section of our blog/web.
The UpperValley operation is dedicated to developing a new breed
of curly hair cats that started in a single litter natural genetic alteration.
See the UpperValley Chapter about
the Tennessee Rex breed. Additional links are at the left column.
This is our cattery introduction page.
ALLPURRS CATTERY
You will find links to all the pages in the "Index" column on the left. Please check the links and select the page you would like to visit.. You can jump to any page or open a chapter by clicking the link or chapter title.
Our Allpurrs Cattery
"The Best Little Cat House in New England"
Yes, you have finally reached the beginning of the Allpurrs Cattery section of this web/blog site!
Sorry to have put you through all the "advertising."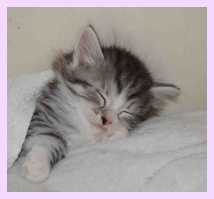 I ran a small cattery that specializes in Northern Forest cats. These are the breeds that originated in the cold wooded areas of the Northern Hemisphere. They include the (US) Maine Coon, the (Russian) Siberian and the Norwegian Forest Cat. Up until recently we worked with only the Maine Coon cats but added the Siberians at the request of several associates who are allergic to cats. The Siberian breed lacks a protein in their saliva that causes most of the allergies. When cats groom themselves they transfer the saliva to their fur and then that dries and can become an aerosol. We have adjourned breeding Maine Coon and Siberian cats indefinitely partly due to just plain getting old (I'm 87 now) and fighting cancer and skeletal issues. My work with the Tennessee Rex breed is all time consuming with 67 kittens born and raised at the UpperValley cayyery during the past six years,
The new Tennessee Rex breed. is the result of a natural genetic change that brought about cats weith curly and wavy hair that glissens like satin. The cat [ortion of this web site is now dedicated to the development of this new breed, See the Tennessee Rex chapter for all the recent work with that breed.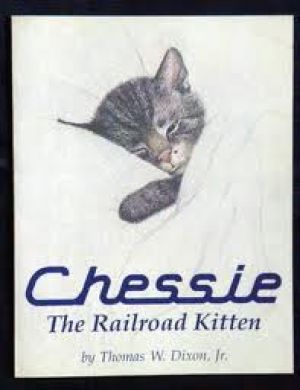 The kitten in the picture above is our "Chessie," named after the C&O Railroad's mascot cat from the 1930's, after I found her sleeping in the position shown. Fortunately the Nikon was within reach.
There was a children's book published in the 1930's, I believe, about this stow away kitten that rode the rails of the Chesapeake and Ohio RR. That book was one of my favorites as a youngster back before WW2. It's still available on line and makes a nice bedtime story.
Our non typical web/blog site or blog and how it came into being.
I decided to lump everything into one web file/site and have different web addresses (URLs) go to different pages. It worked. What we haven't figured out yet is how to keep the visitor limited to only one or two sections. It also has become more of a BLOG that a web site. Alpurrs is planning a real cattery web presence as soon as we are able to resume breeding the Siberians and MCP breeds.

On your left and way up is a table of contents showing all the pages available based upon the IP address you used. Click any page (with the square bullets) to navigate to it. If no pages show up under a main heading (Chapter), click the heading to open that section. There is no limit to the number of times you can switch pages and chapters.
This section of our site is about the Allpurrs Cattery. For now the other main chapters are also listed to your left. You are welcome to browse through all the pages. The UpperValley Cattery has been divested from Allpurrs and is devoted to the rescue from extinction of the Tennessee Rex breed. New breeders have joined the breeding program in British Columbia, the US and Poland. We will keep the chapter about the Tennessee Rex activities on this web site just as we have the family records and other chapters. Enjoy your visit.
This web site has been around for about 9 years and it will continue to keep changing. It looks more like a blog than a cattery web page. We started as an experiment and finally went on line in 2011 but did not announce the new site until March, 2012. Still there were more than a thousand hacking attempts in the first two months. We don't count these in our regular stats.
The Family sections are places for family members to gather our history. The new section under development is for the "Maxwell Clan." Please note that to prevent identity theft we have blocked recent history for the general public but kept it available to identified family members
You may find additional items of interest in the Miscellaneous section. That includes a video.of our Christmas light display in 2009. I used all incandescent lamps. It has grown to about 5000 individual circuits using RGB LED lamps now controlled by our main home computer. Programming is much mre complex and each lamp can be set to any color and brightness at a rate of about 80 updates per second.
It looks like we will be in beta test forever so some things might not show up perfectly. Our e107 server attempts to provide your specific browser with a properly dimensioned view of each page. We do not yet have the capabilities to translation to other languages, but we are working on it.


News from the UpperValley Cattery
There is more good news about expanding the efforts to save this gene and breed.
Check the new information at the Tennessee Rex section.
Seven new breeders have joined the project and we expect to advance
to Preliminary New Breed at the spring TICA Board Meeting.
This web site is made up of several sections that are not related to each other. The URL you used to gain access determines where you land. The entire site is, for now, open to you no matter which road you followed to get here. Some family pages, pages used for testing and also input access, are not visible unless you are a registered associate administrator or family member.
We apologize for the "commercial" appearance of our web site. In order to make it instantly changeable we have used a template designed and built by my son, Michael, with overlays for the "e107" machine and have not yet looked into a better layout of the pages. At present the webmasters can change, add and delete anything instantly from even an ipad while browsing. All we have to do is let the e107 know it's really one of us.
If you have questions you may reach us by email at adm@allpurrs.com. (click the word)
Enjoy your visit.
You might also consider this . . .


For additional cat related sites consider checking out Kittysites at -- KittySites.Com - The Cat Lover's Online Directory! If you are looking for a cat-related website, this is a great place to start. Kittysites is a large and resourceful directory with a personal touch!
We are still experimenting. There are artifacts from blunders that still remain in the pages. We clean them up frequently but more will pop up. If you see an "oops" let us know and we will try to fix it.